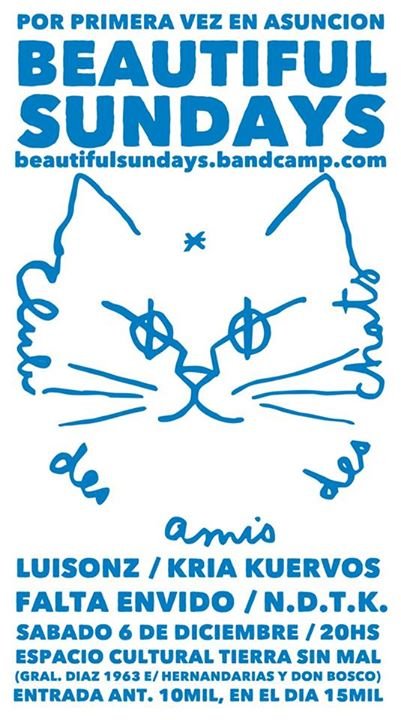 «Romper los límites de lo posible es sumamente necesario en la sociedad capitalista que vivimos hoy. Todo apunta a la individualidad, al salvarse uno mismo.»
Bajo esa premisa arrancó la banda allá por el 2010, esperando transmitir valores de unidad y energía positiva.
Cuentan con 2 materiales «Catarsis en un domingo hermoso» del 2012 y «Tangled Thoughts About You» de comienzos de este año.
Los Beautiful Sundays tienen como influencias a los Pixies (quienes no?), Lemonheads, The Smiths, Yo latengo, Sonic Youth, Fun People y The Cure con un marcado pop-punk tirando en algunos temas hacia el hardcore punk.
Acá te dejamos «Tangled Thoughts About You» (2014)
Se presentan el 6 de Diciembre en el Espacio Cultural Tierra sin mal que queda en Gral. Díaz 1.963 entre Hernandarias y Don Bosco, las entradas anticipadas están en 10mil Gs y en el día saldrán 15mil.
Los Luisonz, Kria Kuervos, Falta Envido y N.D.T.K también formarán parte del Line Up del día.
Actualmente la banda se encuentra formada por Otto en el bajo, Gastón en la bata, Hernán auf de maur en voces y Fero en la Guitarra.
Contactos:
thebeautifulsundays@hotmail.com
https://www.facebook.com/BeautifulSundays/
http://beautifulsundays.bandcamp.com/