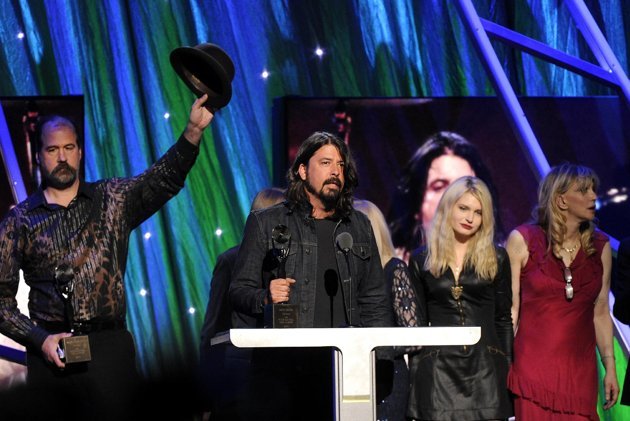 El Rock and Roll Hall of Fame del 10 de abril en Brooklyn, New York fue transmitido por HBO este 31 de Mayo.
Michael Stipe (REM) fue el encargado de la inducción con participación de Courtney Love Cobain. Repasó un poco la historia de la banda y fue bastante emotivo en especial cuando dice «Kurt, te extrañamos, yo te extraño» para proceder a llamar a Dave Grohl y Krist Novoselic.
Dave agradeció a los ex bateristas de Nirvana, diciendo que definitivamente fue el hombre con más suerte en la vida al ser el quinto baterista y quedarse en la banda.
Krist Novoselic visiblemente emocionado agredeció a los fans «Quiero dar gracias a los fan, a esos que día a día se me acercan y me dicen, gracias por la música. Eso siempre me recuerda a Kurt, asi que gracias Kurt».
Tocaron ya con Pat Smear en el escenario «Smell Like Teen Spirit» con Joan Jett, Kim Gordon (Sonic Youth) cantó «Aneurysm», Annie Clark (St. Vincent) «Lithium» y Lorde «All Apologies» con las 3 anteriores en el escenario.
Te dejamos el video: