The Killers – Direct Hits y Keane The Best of…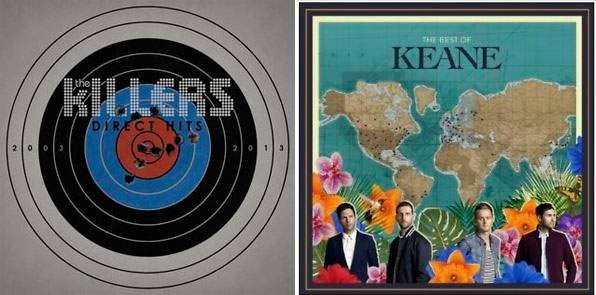 Al aproximarse otra celebración de las fiestas de fin de año, estos dos discos recopilatorios de grandes éxitos resultan excelentes opciones a la hora de elegir ese tan difícil regalito para la persona especial. ¡Es que todavía se regala música! Y que mejor opción que las ofrecidas por dos bandas que nos han visitado recientemente para brindar magníficos conciertos en nuestro país.
Primeramente, a casi diez años de haber escuchado por primera vez aquel «Mr. Brightside», The Killers presenta su Direct Hits. Y así como dice el título, son trece temas muy bien distribuidos y compaginados entre sus cuatro discos, más dos canciones nuevas: «Shot at the night» y «Just Another Girl», con un sonido más tranquilo y modernamente ochentoso.
Keane realiza una ecuación similar con 16 canciones elegidas tanto por ellos mismos como por sus fans y dos canciones nuevas; la fastuosa «Higher Than the Sun» y la más rápida «Won't be Broken», que ya había sido presentada en el canal de YouTube del grupo. Tom Chaplin y compañía también lanzaron una edición doble con un disco de B-Sides, y una edición de lujo con todo lo anterior más un DVD.